Experience Bulldog Excellence – Atlanta Style


Welcome to UNBELIEVABULL FRENCHIES located in the outskirts of Atlanta,Ga. Our beautiful FRENCH BULLDOGS and ENGLISH BULLDOGS are raised in the house with lots of attention, love and socialization. We have been fortunate enough to produce some of the finest and highest of quality FRENCH AND ENGLISH BULLDOGS. If you are not familiar with the FRENCH BULLDOG and ENGLISH BULLDOG then let me introduce to you two of the most outgoing and affectionate breeds I have ever come in contact with.
These two breeds are very entertaining and love to please their owners. Both breeds are such clowns and are very comical. They have very short cobby bodies, nice round heads with very short smashed in short muzzles and their characteristic bat like ears of the Frenchie are everybody's  favorite feature. Very small in size but with the heart of any big dog. FRENCH and ENGLISH BULLDOGS are very loving and will go the distance to satisfy their owners. Both breeds are very loving and will have you laughing for days. They are such clowns and love the attention.
Here at UnbelievaBull Frenchies we specialize in blue FRENCH and ENGLISH BULLDOGS, blue fawn FRENCH and ENGLISH BULLDOGS,chocolate FRENCH and ENGLISH BULLDOGS and soon Tri and lilac  FRENCH and ENGLISH BULLDOGS. We occasionally will produce other colors such as brindles, creams, whites and other colors also. Most of our frenchies are of Russian and Hungarian decent. We love these babies as if they were our own kids so producing a healthy sound pup is our main goal.
All pups will be checked by a certified vet before being transported to its new loving home. They are all AKC registered coming from some of the best bloodlines sought after today. We have some of the most beautiful FRENCH AND ENGLISH BULLDOG PUPPIES FOR SALE. IF YOU'RE LOOKING FOR A GREAT LOVABLE AND QUALITY FRENCH OR ENGLISH BULLDOG THAT IS LIKE NO OTHER THEN UNBELIEVABULL FRECHIESIS THE PLACE FOR YOU. AND REMEMBER QUALITY IS PRICELESS!!!!!!!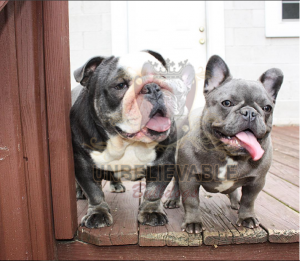 Our Breeding & More
Here at UNBELIEVABULL Frenchies we specialize in rare and exotic healthy quality FRENCH and ENGLISH BULLDOGS. We strive to pair our clients with their perfect doggie sole mate. By owning and caring for our own babies we know the connection and joy that frenchies give to their new parents. FRENCH BULLDOGS live to please and love their owners by just being their happy energetic naturally funny selves. All pups come with a 1 year health guarantee against any life threatening illness.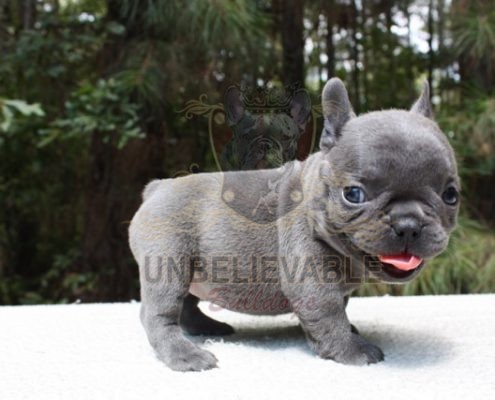 What We Produce
We produce some of the finest FRENCH BULLDOG PUPPIES you'll ever see. Here It's not all about quantity and it's about quality. We have a very strict breeding program and all breedings are strategically planed with genotype and phenotype in mind. We mainly produce (dilutes) blues dd, but we also produce on occasion chocolates bb pups also. We are in the process of furthering our program to produce black/ blue and tan as well as the highly sought after lilacs..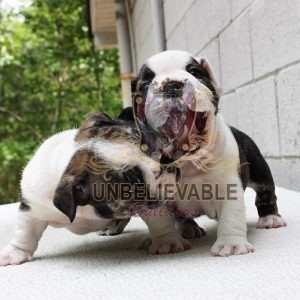 Videos
We will be posting videos of our babies from time to time to let people into the WONDERFUL WORLD of UNBELIEVABULL FRENCHIES. These dogs are like no other and have such great personalities that a picture just can't show. So here's a glimpse of the day and the life of a UNBELIEVABULL FRENCHIE!!!!! ENJOY AND THANKS FOR STOPPING BY.
Unbelievable Bulldog Puppies
Our happy puppies with happy homes!